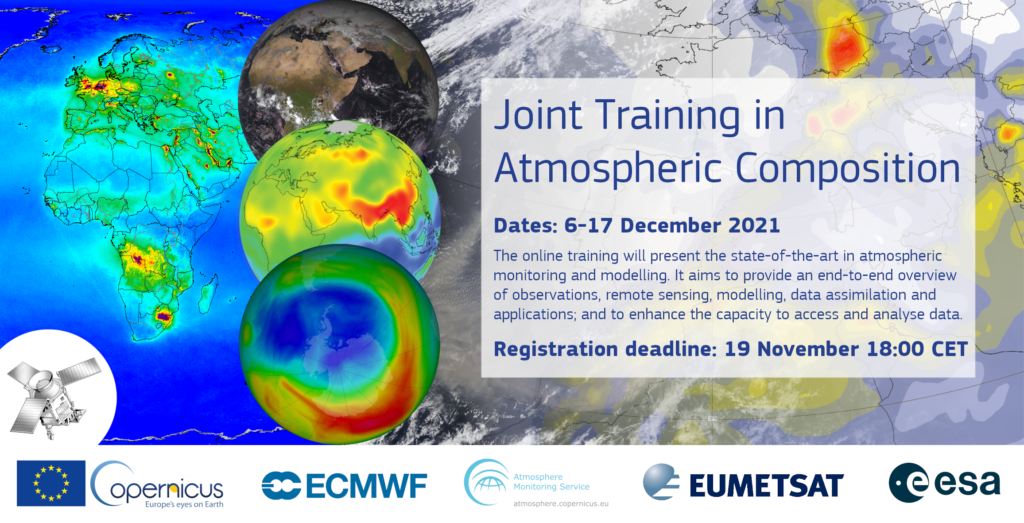 The course
The European Space Agency (ESA), the European Organisation for the Exploitation of Meteorological Satellites (EUMETSAT), the European Center for Medium-Range Weather Forecasts (ECMWF) with the Copernicus Atmosphere Monitoring Service (CAMS) are organising a third joint training course on Atmospheric Composition from 6 to 17 December 2021.
This event follows the second joint school.
Specific Goals
The training will present the state-of-the-art in atmospheric monitoring and modelling.
It aims to provide an end-to-end overview of observations, remote sensing, modelling, data assimilation and applications; and to enhance the capacity to access and analyse data.
The training course also aims to foster collaboration amongst participants and encourage the development of individual and team projects using the data, resources and methodologies presented.
Target Audience
The training is beneficial for early-career scientists, researchers from academia and research institutes, young scientists from industry, and anyone interested in atmospheric composition monitoring and modelling.
Course format and topics
The training is taking place entirely online with five days of lectures and practical sessions distributed over two weeks.
You can now access the detailed Agenda (pdf format).
Recordings will be made available here under the scrollable format of the Agenda.
Main topics of the training:
Atmospheric processes: Chemical species, aerosols, GHG
Modelling: Global / regional; analysis / re-analysis / forecast; bias correction & downscaling; inverse modelling / DA
Emissions: Inventories, inverse modelling, anthropogenic effects (link to COVID)
Observations: Spaceborne, in-situ, remote sensing retrievals
Operational applications and services: Policies; public & private sector needs; applications & services.
Deadlines and contacts
How to apply
Please fill in and submit the application form on the ECMWF website .
Please register before Friday 19 November 18:00 CET!